For one of the challenges this weekend, we were mailed an envlope of mystery goodness to make into cards. Here's what was in mine - two pieces of blue cardstock, three different patterned papers, a couple of big stickers, a long red ribbon, some stamped camping images, some really cute little mini-buttons, and some even cuter handmade embellishments. (note - if you can't see all the image on the screen, click on it to go to photobucket and see the fullsized version.)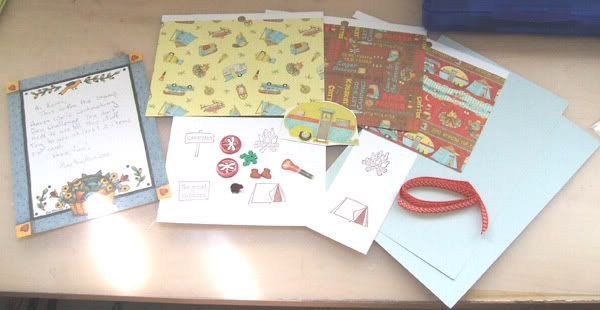 And here's what I did with it... I still have half the goodies left, but I made three cards.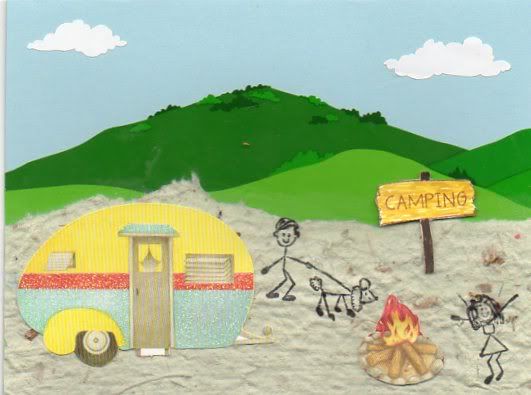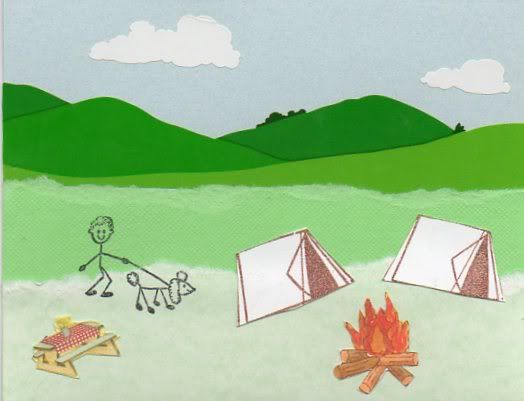 I've always liked doing collage cards and when I saw the caravan sticker it seemed like a natural to me! These two cards use a landscape border strip that I have had lying around for a long time. I cut it in half and it was just long enough to do two cards. The one card is finished with handmade paper that someone gave me, and the other has a couple of strips of torn cardstock to make the 'grass'.I cut a few of the images out of the patterned paper and coloured in the stamps to make my camping scenes. The one thing that my envelope of goodness was missing was people, so I used a cute little stamp that I happen to have to round things off. I may possibly add a greeting or some tiny flowers to these cards but for tonight they're finished...
And then I made an entirely different style of card.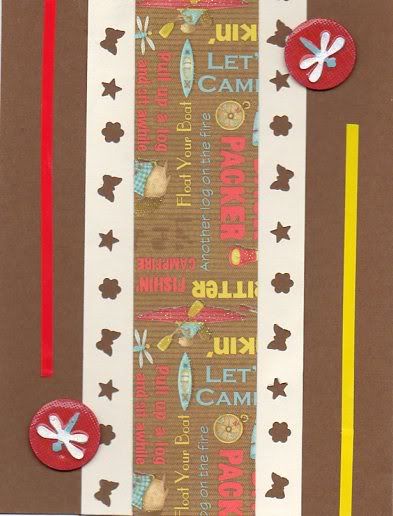 This one uses the brown patterned paper with writing on it, some punching, and the gorgeous little pair of handmade embellishments that was in my envelope. I was going to use the red ribbon to finish it off but I forgot to glue it down before I put the dragonflies on... oops! so I finished the card off with a pair of sticker strips that happened to match nicely.